Welcome to the Schlosser Real Estate Blog, Lavallette Real Estate.
To visit our Main Website visit www.SchlosserRealEstate.com
View Schlosser Real Estate Featured Properties
Broker & President of Schlosser Real Estate, Andrea Schlosser was recently featured In the nationally syndicated Realtor® Magazine. Read more.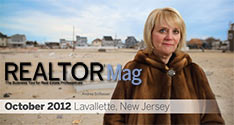 ---
 Sign up for Email Updates of New Listings as soon as they are listed
We specialize in the marketing and sale of homes on the jersey shore. Our knowledge of the Lavallette and surrounding area real estate market greatly benefits our buyers and sellers. We have been representing clients in the sale and purchase of homes for nearly a century.
---
If you would like to contact Schlosser Real Estate for any reason, please fill out the form below and an Agent will contact you promptly. 
View custom framed pictures of the shore. Pre and Post Sandy imagery, Lavallette and surrounding area, Sunrises and Sunsets. http://www.jerseyshorebeachfronts.com
Lavallette 3 Panel Canvas
Featuring Lavallette 2008 Photograph before Sandy.! Click Here To View